Shakima's

25-

year anniversary!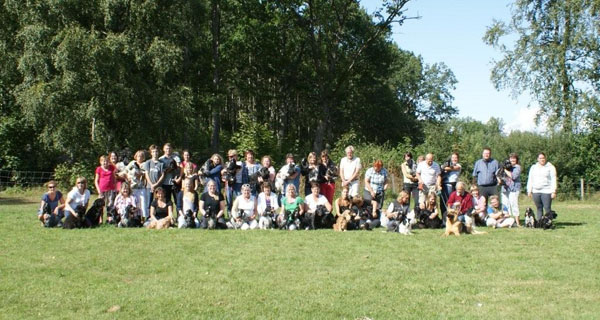 August 23, 2009, we celebrated that it was 25 years ago, the first puppy was born in Shakima's kennel. During these 25 years, it is 247 puppies that carry the prefix Shakima's. There were about 50 of them that were with me and helped me celebrate. It was amazing to see everyone from old to young. Today's oldest was Morris who is 14.5 years and still going strong. Today's youngest was my last puppies from Norton and Mary. Most people could let their dogs free and it was so nice to see that there was no scrimmage, it was just a few who grumbled a bit but that was all. Some of the puppies I had not seen since they moved from the kennel, it was so fun to see them all! I think everyone was very typical, it showed that they were fromShakima's.
We had some different activities during the day as hot dog search, quiz, cocker race and a little different shows. It was Marie and Princess who showed agility. Annika and Dallas showed retrieving. Malin and Ludde showed obedience. Thanks all, it's so great to see that a cocker is truly an all-round dog that likes to do just about everything. Many thanks to the masters and mistresses who came with your dogs and helped me celebrate! Equally big thanks to everyone who helped me with planning, photography, cooking and activities during the day. Thank you Inger for your delicious cakes!

Marie and Sessan

showed agility


Annika and Dallas

showed retrieving


Malin and Ludde

showed obedience


The audience is focused




After that you could get yourself to try the different activities


Time for hot dog searching



You have to get hold of the sausage with the number before the dog swallows it!




Photographer very own assistant with the babysitter




Is there anything food soon, right?




The boys

are busy behind the grill... 1st grill master

»
My sweet puppy owners!